Visiting Chongqing (CHINA)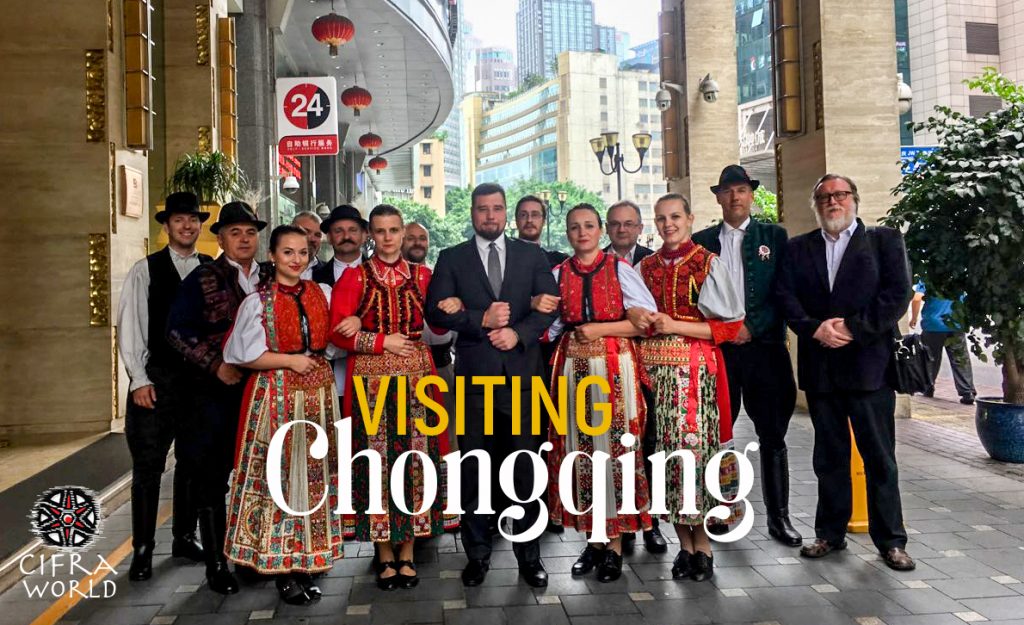 Cifra Műhely was honored to being invited to The Third Western China Spring of Budapest event. It was a pleasure for us to accept the invitation. We started off our journey with 4 pairs of dancers and 5 musicians on 21st May. We travelled through Helsinki to an enormous city – Chongqing.
Fun facts: 82 403 km2 area; population 33 millions of people; 7440 km long flight; 13h 30m of travelling.
We arrived at 7 am therefore we were a little bit dizzy but really excited about our trip. We saw clearly that the area is developing in a huge extent: skyscrapers, high-buildings, bridges were built everywhere we looked. The weather was changeable, the moisture was very high, it often rained, there was sunshine sometimes but the weather was mainly warm.
The mass wasn't significant as I expected, only the tourist areas were full of people. We saw purity everywhere we went – there is a big number of street cleaners in Chongqing.
Our hosts introduced us the gastronomy of Chongqing – every member could found their traditional flavors: mainly spicy or even spicier food. The soups (pastas), meats and sweets were extremely delicious! We visited some really cozy "hidden markets" on the streets and we saw some "bizarre foods" like funiculars, frogs, pigeons…etc
Our goal was to give introspection of the colorful Hungarian traditional lifestyle by presenting folk dances with the Fajkusz Band. We were invited to different places such as the SISU University (we met students learning Hungarian) the Southwest University. Each of the visited places we invited the audience to dance with us together. Fortunately, lot of people joined us and learnt our dance-steps.
We also visited the 21th China Chongqing International Investment and Global Sourcing Fair. The Hungarian pavilion was especially outstanding and our performance was received with a great interest as well. At the end of our Chinese trip, we visited and performed at the Europe Day Celebration.
All in all, our one-week tour was full of new experiences and interesting things. The local guests were kind and inquiring about our performances and they joined to our dance shows without any hesitation. I am bold enough to say, we were never asked for more selfies than on this trip, and all of us appreciated this kind of attention.
We would like to thank for the support and the invitation of the Consul-General of Hungary in Chongqing and also the sightseeing tour of this beautiful city. We hope that our friendship will continue and our next cooperation will be success as well.
Visit our Facebook page for more photos
Hungarian articles about the event
Csoda Csungkingban – demokrata.hu
Óriási magyar siker Kínában – origo.hu
A soproni Fajkusz Banda Kínában népszerűsítette a magyar kultúrát – sopronmedia.hu
Chinese articles about the event
mp.weixin.qq.com
wsc.sisu.edu.cn
mp.weixin.qq.com
h5.cbgcloud.com